Home
About Us
Join Us
Fleet Rules
Ship Listing
Fleet Forums
Open Positions
Recruiting
Task Forces
Fleet Database
Ship Database
Fleet Engineering
Fleet Tech
Fleet History
Web Links
Awards
News
FAQ
Fleet Council
Contact Us
Banner Exchange
Banned Player List
Who's online


Guests: 5
Members: 0
Details
Birthdays on
August 21
No birthdays today.
---
Come, my friends,
'Tis not too late to seek a newer world. .
. . To sail beyond the sunset, and the baths
Of all the western stars, until I die.
-- Alfred, Lord Tennyson, Ulysses, 1842.
---
---
---
---
Section 47
---
---
---
---
---
Would you like to do a banner exchange with Theta Fleet? Contact Admiral Kathryn Burke.


---
Theta Fleet was awarded the Admiral's Award from Sci-Fi Avatars (scifiavatars.com).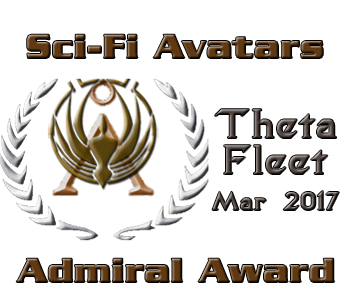 Thanks to those who nominated us and to the great players who helped us get nominated!

---
August 21, 2017